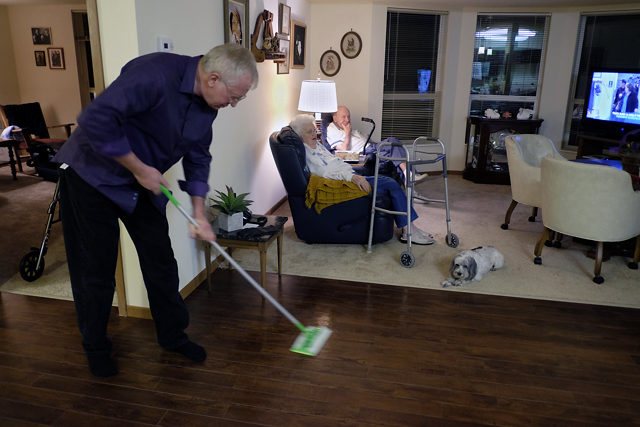 We did it!  Louie and Darlene are moved in to their assisted living apartment.  The universe continued to offer up help as yesterday was the best weather day of the week making the process easier than it would have been had we been one day later.   Our home aide helper Mona the magnificent picked them up in the morning before the movers came and took them to one of my mom's dear friends who hosted them for the afternoon as we got everything moved and set up. Mona brought them to the Legacy in time for dinner as we all scurried around to place furniture and unpack everything into it's place.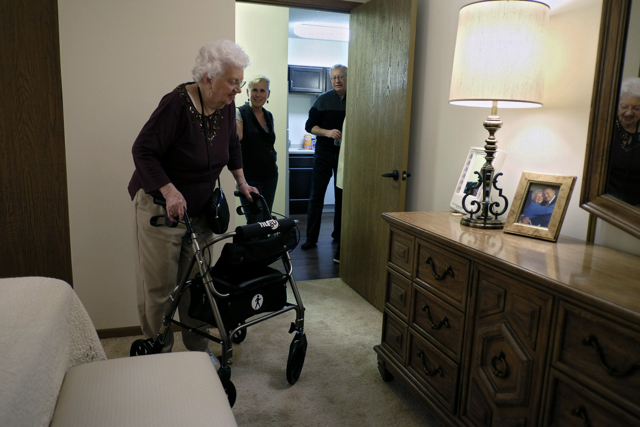 We had the bedroom completely set up including paintings on the walls, new bedspread and curtains.  Happily my mom thought it all looked quite pretty, thanks in huge part to Tezikiah's excellent taste in fabrics and decorating with my mom's taste in mind.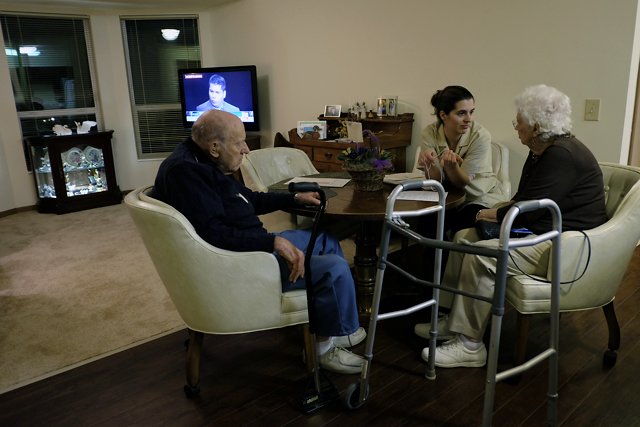 Samantha stopped in and gave them their emergency necklace buttons and went over information about how the Legacy staff can help them adjust to their new lifestyle.  My dad is understandably confused and wondered why we were bringing in all this stuff.  "How long are we staying here?"  We are staying with the story that we are just trying it out for a couple of months to see how they like it.  I went over this morning to have breakfast with them and see how the first night went.   He said "I got something in the mail that said to come here for something medical but I can't remember what it was but I didn't think we were staying here."  I heard that over and over today. I know it will take some time for the adjustment and I hope it's like everyone who's been through this has told me, that after a while they end up loving it.  Fingers crossed.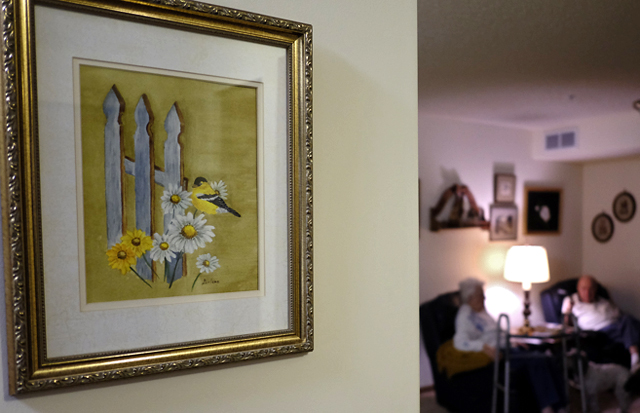 For now we've done all we can.  The walls are filled with many of my mom's paintings making a cozy nest.  It's been quite a ride for the last 9 months to get to this day.  One week from tomorrow I will be on a beach in Mexico and the timing of this vacation could not be better.  I can travel and relax with peace of mind and that is priceless.
Let me add how grateful I am the way my brother and I have worked together on this transition.  I've heard so many stories from others about disagreements between siblings, but we have been united in this effort.  As we left tonight we gave ourselves big pats on the back for doing what is best for my parents even though it might not quite feel that way to them just yet.  We know we've done good.