Terry Gydesen is a freelance photographer based in Minneapolis. Her passion for documenting political campaigns started in 1988 when she was hired by Jesse Jackson to document his Presidential campaign.
With the support of various grants and fellowships, Terry has documented political campaigns both locally
and nationally for the last 20 years.

Her Book
Terry's book Twelve Years and Thirteen Days, Remembering Paul and Sheila Wellstone, documents a political journey that is a timeless testament to one of Minnesota's most compelling political activists.
Commissions
Terry has been commissioned for several projects which include documenting Prince's 1993 New Power Generation Tour in Europe which resulted in the book, Prince presents the sacrifice of Victor. She was one of twelve photographers commissioned by the Minnesota History Center to document life in Minnesota at the turn of the 21st century. Her "Snowbirds" project followed Minnesota's retired seniors during their winter life in Florida and Arizona.
Target commissioned Terry for their "Story Telling" campaign, showing how Target's philanthropic contributions make a difference in communities across the country.  Most recently she has been retained by the Girl Scouts making portraits of leaders in the Community in their "Where Girl Scouts Can Take You" campaign.
Published Work
Her work has also been published in various publications including the New York Times, Newsweek, and the Washington Post.
Grants and Fellowships
Terry is a three time recipient of the McKnight Photography fellowship. In 2017 Terry was awarded the McKnight Visual Arts Fellowship. She has also received grants from the Minnesota State Arts board, the Jerome Foundation, and the National Endowment for the Arts.
Minnesota Original Video
Click the image below to watch a segment about Terry Gydesen. In this segment, Gydesen shares her passion for documentary photography, with subjects ranging from politicians to Prince.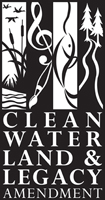 Terry Gydesen is a fiscal year 2012 recipient of an Artist Initiative Grant from the Minnesota State Arts Board. This activity is funded, in part,
by the arts and cultural heritage fund as appropriated by the Minnesota State Legislature with money from the Legacy Amendment vote of the
people of Minnesota on November 4, 2008.