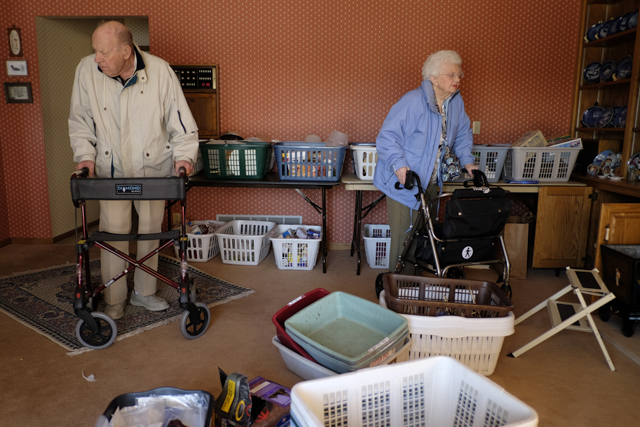 My Mom did want to go to the house one last time before the sale started.  I warned her that it would be hard. We went on Sunday and it was hard.
I told her to just tell me anything she wanted to keep and I'd put it in the box. She did find some things that she especially was looking for so that was good.  As we got into the car to pull out of the driveway I looked over at her and could see the tears streaming down her face. I took her hand and she said this was the hardest day of her life. I squeezed her hand and said I know it is.  It was the most significant moment I've ever had with my Mother. We are both learning about letting go.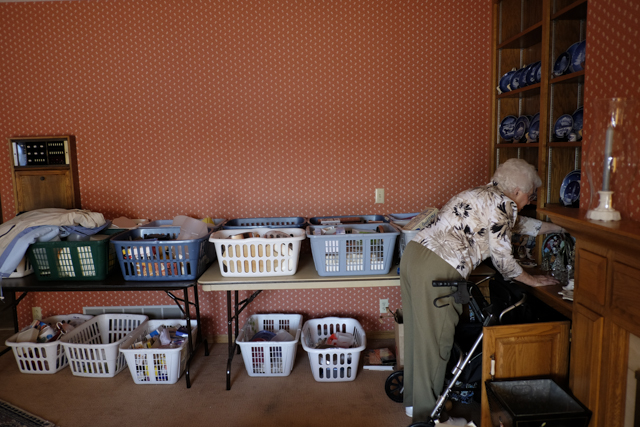 My Mom spent quite a bit of time in the family room and my dad headed for the bedroom closet.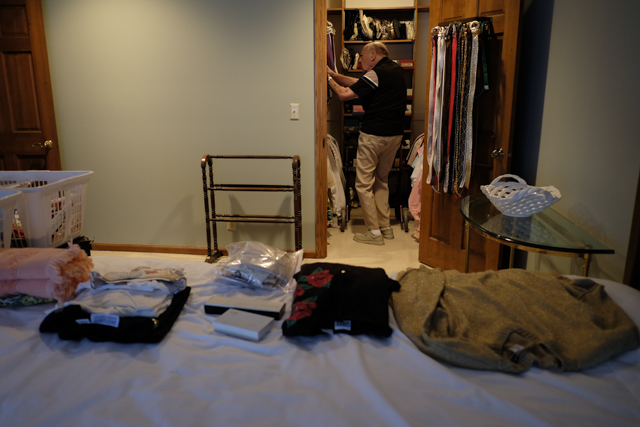 The only thing he wanted (I've taken almost all of his clothes since he didn't have nearly what my Mom has) and he found a blue and white checked pair of shorts that he wanted to keep. They were very old and very soft, so he was easy to please.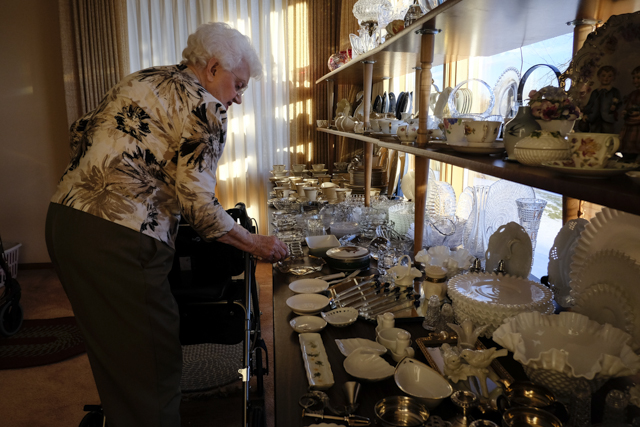 I finally told my Mom that she better go see the living room as that is where most of the most precious to her was displayed. She didn't ask to keep much of anything, but it was overwhelming to see it all displayed in that way.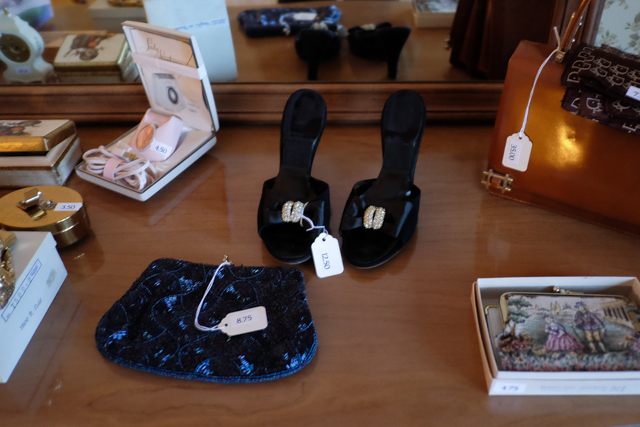 Things hadn't been priced yet on Sunday.  Good thing as she would have been freaked out by the price on many items.  She looked at the high heel black shoes with the rhinestones. She said it was the first really good pair of shoes that she bought around the time she met my Dad. Even though they long ago didn't fit her anymore, she's kept them.  It's clear where the sentimental sap side of me comes from.
When I went back to the house last night to see the final set up and saw the price of 12.75 on her shoes, I decided I needed to keep those for her. I also did a bit more shopping, as I have been doing all along as they've set up, picking out things that I've decided to keep or that I thought were extra important to my Mom.  These shoes clearly were significant to her. I also kept a silk oriental style dress made beautifully in Hong Kong in the early 60s.  Not my style, but impeccable in how it was made. I remember that she always said how my Dad brought it back for her from one of his trips to Chicago when he was a wholesale furniture salesman. She was very proud of that dress. As I discussed it with a friend, she said of course keep the dress, you have the shoes! Not that either would fit me, nor could I walk in heels. But that was not an important consideration in this decision.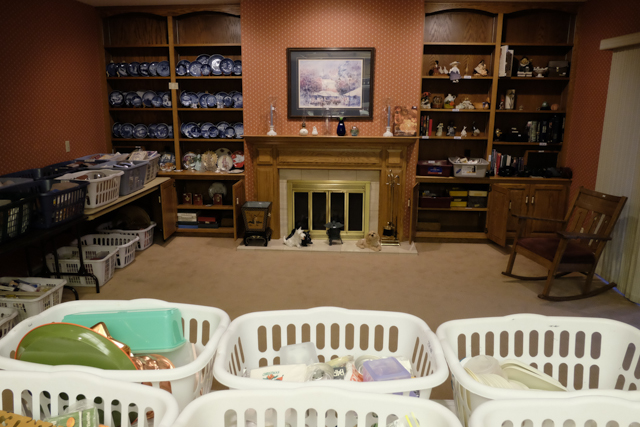 As I walked through the house on the eve of the sale I paused to feel the sadness of it all.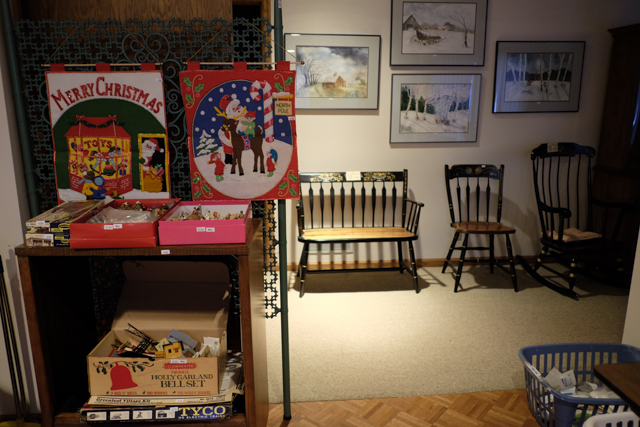 A life time of collecting memories through things acquired.  We all do it.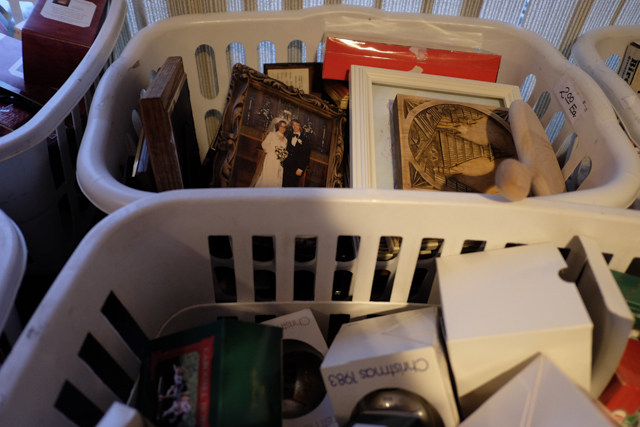 I did get a chuckle out of my brother's wedding ph0to from his first wife in the $2.00 bin.  I left it there.  I expect it to still be there unless someone falls in love with the frame.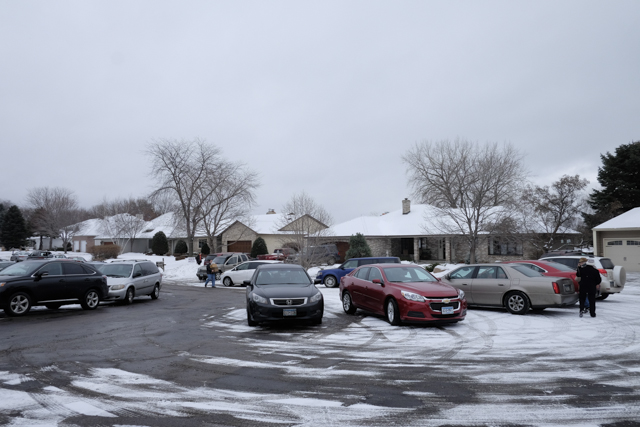 I decided to be at the house this morning when the sale started. There was a pretty good crowd as usual at the start of the sale.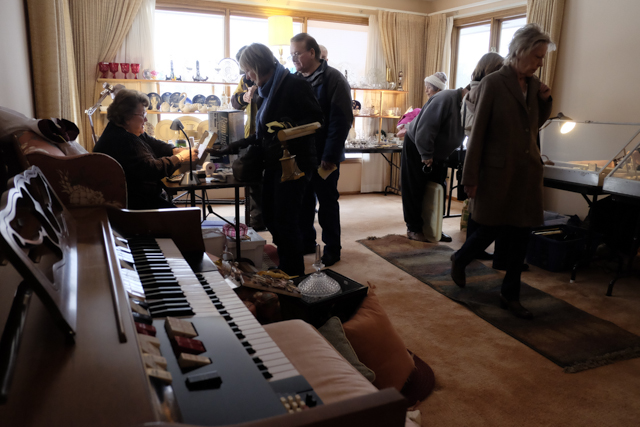 I have always felt a bit emotional at estate sales I've gone to over the years knowing that I was rifling through people's lives. This time it was my parents lives. The sadness and melancholy grew stronger as I watched people gather their items.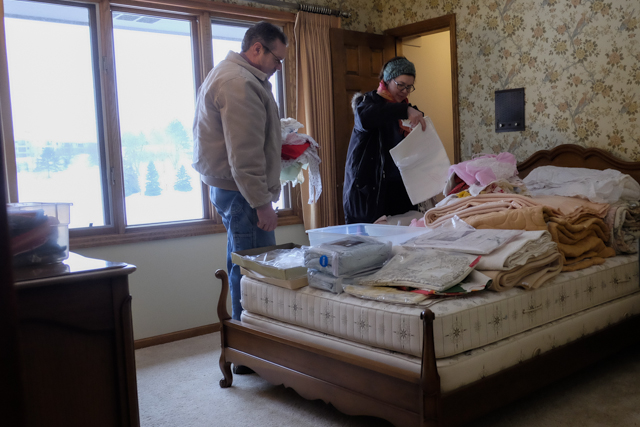 Nothing prepared me to my reaction to this couple who came in and bought all of the vintage baby cloths most of which were mine. Luckily I had pulled a few things out on Sunday that my Mom said she made for me before I was born. I debated about keeping a few more over night, but they now were going someplace else. I decided that was enough for me and left to let the estate people to do their thing.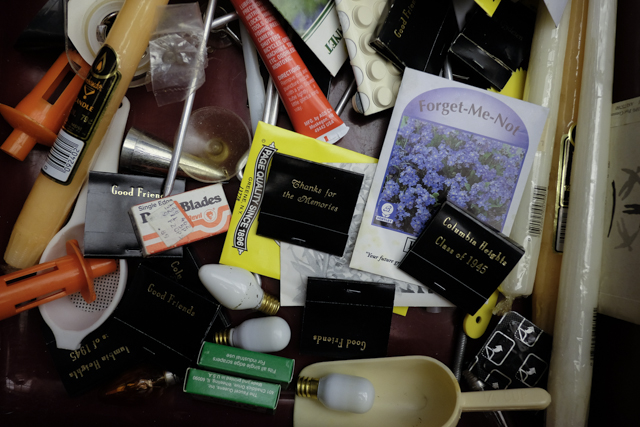 Memories, so many many memories.